So you've invested the time creating the perfect CV and now you've secured an interview for that all-important new role that will take you to the next stage of your career. Now comes the daunting part - the interview. The interviewing process is the employer's opportunity to delve deeper into your employment history, including your skills and experience whilst getting a feel for how you will fit into the team and wider organization. Don't forget though that it is your chance to find out more about the role and the company and ensure it is an opportunity that fits your long-term career goals. Whilst it can be a nerve-wracking process remember the interviewer already thinks you could be a good match for the role - that's why they selected you for an interview - now they just want to find out more about you and confirm you are the best fit for the job.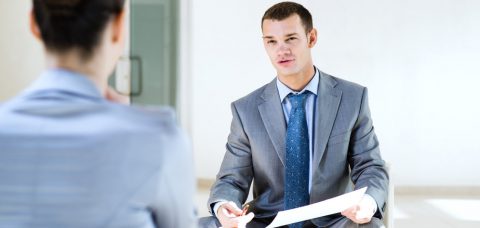 Follow our simple guide to interviews to ensure you are fully prepared and know how to perform to your best to secure that job offer.
When it comes to interviews, preparation is everything.
On the very basic level, interview preparation can involve merely knowing what's included in your CV, having a good story to tell about the highlights of your work experience and understanding the basis on which to promote your key skills and experience. However, the key to preparing for a winning interview is based on much more. Good preparation should also mean having a structure for your conversation; it's about ensuring you come across as professional and expert; making sure that what you want to talk about is talked about, and can even make the process more enjoyable and your performance much more memorable.
Self-assessment
Before even thinking about the role you are interviewing for, it's crucial you look at yourself, understand what makes you a desirable option and what will make you stand out from the crowd. Self-assessment is a good way to critically look at your skills, abilities, strengths, weaknesses, interests and work ethic. It enables you to think about what is important to you, the kind of role that will make you happy and also be the basis on which to develop your career plan. By undergoing a period of self-reflection before the interview you'll be able to examine your accomplishments, achievements, and successes, and understand those areas that are particularly relevant to a prospective job. Make notes about what motivates you, what you want from your career and how work fits into your life. This will be the basis for your conversation and dictate your agenda prior to the meeting.
CV/resume
You'll have no doubt updated your CV/resume before securing your interview, but it will help significantly if you use the lessons learned from your period of self-assessment to revisit it, making sure it's on message, reflects your immediate and future needs and is focused on the job you are applying for. This could just mean looking at your CV/resume to make sure it is accurate and that you are able to talk about any part of it, but it could also mean revisiting the content to make sure it is aligned with your career goals and makes the most of the stories that matter to the role you are applying for. In preparation for the interview, it's wise to look at your CV/resume and link your key achievements to the role you are applying for and the responsibilities associated with it. If you don't have a story to tell about each achievement, you might want to consider whether it's worthwhile including the achievement in the first place.
Research
It's impossible to over-estimate the value of researching the company you are interviewing with. Understanding their challenges, aims and objectives not only shows your commitment to understanding the company you want to work for, but it also allows you to tailor your performance, your key skills, and expertise to the unique requirements of the company. A well-informed applicant will always stand out from the crowd and separate good interviewees from average ones. So make use of the multitude of research tools available in the public domain; use websites, news channels, annual reports and social media groups to learn about the culture of the organisation, what motivates them, the kind of projects they work on, their plans for expansion, and the types of people that thrive in the company. If your research shows the company you are being interviewed for prides itself on being a thought leader, then show them you value thought leadership too. Your preparation could include examples of where you have been a thought leader. You can always go that extra mile by researching competitors too.
Practice, practice, practice
So you know what your personal and career goals are, understand how these are aligned to the needs of the company you are interviewing with and how the company's needs fit your own. Now is the time to get to grips with your interview technique. Set up mock interviews with a friend or family member; use the job description and the results of your self-assessment as the basis for the interview, making sure to address typical interview questions confidently and expertly. Throughout this process make sure to consider your career goals and the results of your self-assessment, and focus on promoting your key skills and communicating the value you can bring to the organization. Although it may be difficult, it's crucial you encourage your interviewer to be critical. The point of this exercise is to help you improve and be the best you can be, so it's better to get criticism now than during the interview.
What to wear
Dress for the job you aspire to and people will picture you in the role. It makes sense to dress your best for an interview regardless of the dress code at the organization. While no one ever got a job because of the way they dressed, many people did not get it because of something they were wearing. If you do not dress appropriately, you will be on the back foot before you even open your mouth. Prepare beforehand and select your interview clothes carefully. Pay attention to detail. All job interview clothes should be clean, tidy and ironed. If you have to travel any distance to your job interview consider how wrinkled your clothes may look after a couple of hours traveling. Select job interview clothes that do not crease easily.
Interview preparation checklist
Preparing a simple preparation checklist can provide structure for your pitch and ensure that you are on message with your responses and meeting the needs of the company. Below is a simple example, which you can tailor to your own requirements.
Your priorities and how to achieve them