The ability to attract and retain the best talent in the market is key for any organisation, but never more so than in highly competitive sectors where niche skill sets are in high demand.
The ability to attract and retain the best talent in the market is key for any organisation, but never more so than in highly competitive sectors where niche skill sets are in high demand. Our guide to employer branding examines how organisations can strengthen their relationship with existing and potential employees and external stakeholders, through the effective communication of the brand's values, personality and culture and creating a strong employer brand.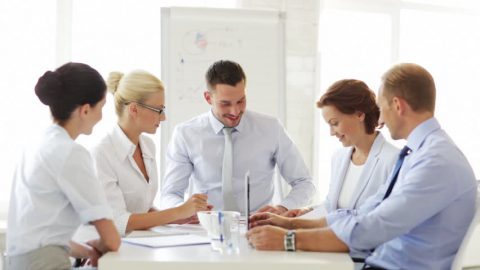 What is an employer brand?
An employer brand refers to the perceptions key stakeholders, and more specifically current and potential employees, have of your organisation. It is about how they view the company; from how you conduct yourselves in the market, through to what they think it would be like to work for your organisation. An effective employer brand presents your organisation as a good employer and a great place to work and can, as a result, help with recruitment, retention and generally affect market perception of your company.
Employer branding is therefore about effectively communicating your organisation's values, personality and culture to create the desired perceptions. Employer branding affects every touch point the organisation has with the employee, starting with the recruitment and on-boarding process. It then extends to every aspect of their employment including training and development; support networks; the development of career paths and benefits and incentives; right through to their exit from the organisation and beyond.
The benefits of a strong employer brand
A clear and defined employer brand can offer significant benefits to your organisation. It can significantly improve application rates and put your company in the enviable position of having a wide pool of talent to choose from. In tight recruitment markets, where competition for the best talent is fierce, it can also help keep the organisation top of mind, make your company stand out in a crowded market and provide compelling reasons to join your company rather than going elsewhere.
In companies where values, personality and desired behaviours have been deeply embedded across the organisation, employers are also likely to benefit from increased engagement from employees. Greater employee engagement and motivation has been shown to result in greater productivity and higher retention rates - all of which contribute to retaining skills and knowledge and ultimately improving your bottom line. Increased engagement with the brand will also help build employee loyalty reducing the risk of losing your best people to competitors, and therefore avoiding the financial implications of recruiting and on-boarding their replacements.
With such significant benefits associated to creating a compelling employer brand it comes as no surprise that even against the recent economic downturn, investment in employer branding continued to increase - even though recruitment budgets may have reduced.
Developing your employer brand
When developing your employer brand it is fundamental you consider a number of questions from the outset:
What are the most attractive and compelling attributes of the organisation to both current and potential employees?
What roles within the company are most critical to your success and what do you need to do to attract and retain the best talent in these areas?
What are the typical characteristics and attributes of current employees and what are their future requirements?
What are the current perceptions of working within the organisation? How are they affecting your current ability to recruit top talent?
With a clear understanding of these areas you can then define an outline of where you are now, what you would like your employer brand to be and the steps required to get there, all of which form the basis for your employer brand strategy.
Typically, "ownership" of employer brands often falls to HR, Internal Communications and Marketing departments but the reality is that everyone in the organisation is responsible for your employer brand - particularly your senior management team. Employer brands cannot be forced onto employees; they have to be true and accurate as well as reflect how your organisation treats its employees. That means true employee engagement only happens if the brand is embedded into the culture of the organisation, is lived and breathed by everyone and underpinned by a leadership team that leads by example. If it's clear the management team don't believe in the brand values, even the very best internal communication campaigns won't be able to instil a change in culture throughout the company.
Aligning your employer and external brand
Both your employer and external brand need to be closely aligned in order to present your organisation consistently and effectively. If there is a clear disconnect between how you present yourself to the outside world and how your employees view the company and what it is actually like to work there, your brand will have a confusing message and will fail to engage both external and internal stakeholders. Remember your employees can either be your organisation's strongest brand ambassadors or your biggest critics.
It's therefore crucial that all employees 'live' the brand, including demonstrating the brand's desired behaviours, beliefs and culture. It's key to remember this level of employee engagement doesn't just happen overnight though. To successfully shape your employer brand you need to invest in your existing employees; it's no use promoting a culture of innovation, ambition, and promising career development and training to potential employees if the reality inside the organisation is one of bureaucracy and minimal training. The best employer brands accentuate the positive aspects of the organisation but are realistic and create a picture people can relate to.
Developing your employer brand throughout the employee lifecycle
Whilst your employer brand will focus on engagement with potential and existing employees, it's important to remember that most relationships between employees and the brand can actually start even before you commence the recruitment process and that their relationship with the organisation will develop and change over time.
A well-rounded, compelling employer brand will consider all of the stages of the employee lifecycle.
Attracting new talent
Attracting new talent is the first stage of any recruitment process and whilst it is widely recognised that in order to attract applicants organisations need to promote the strongest attributes of the organisation, what many fail to recognise is that they may be fighting a losing battle if the pre-existing perceptions held by employees aren't addressed.
Consider every encounter a job seeker may have had with your organisation - these previous encounters will have already created an impression of your brand and could potentially determine whether they decide to even apply for a role or not. It is also highly likely a potential applicant will research your company, whether looking at the careers section of your website or tapping into the experiences of others on social networking sites, so it's crucial the information you provide, or the experiences of others, support your core messages.
By understanding existing perceptions and the people you are trying to attract you can also create a more compelling case for you as an employer. For example, focusing on more than just technical requirements in job specifications and considering why a role would be attractive, what your organisation can offer (culture/worklife balance/benefits etc) and what would make you more appealing than other companies or opportunities goes a long way to developing a strong employer brand. Similarly check the careers section of your website reflects the brand to its full potential.
How to strengthen your employer proposition
Promote culture and rewards
Show what success in the organisation looks like
Introduce current employees
Promote awards and accreditations such as 'Top 100 employers' or 'Investors in People'
Demonstrate a commitment to CSR
Promote your commitment to career development and training
Remember to treat all applicants with respect and courtesy. Whether they are right for the role or not, they have invested time and interest in your brand and are potential brand advocates and their opinions should not be disregarded.
Interviewing and on-boarding
The interview process is a prime opportunity to reinforce your employer brand so make sure your interviewers live and breathe your brand values. An interviewer who is negative, unprofessional or ill-prepared will not only give the wrong impression of the organisation but could also determine whether the interviewee chooses to accept a job offer or not. They could also have a negative impact on your attractiveness to other potential employees.
Once you've found the right person and they've accepted a job offer, your attention should turn to the on-boarding process. Ignore this crucial part of the recruitment process and you could find yourself back at square one very quickly. You should reinforce your employer brand prior to the new employee's start date and deliver a well-planned induction process to ensure the reality of the organisation matches the brand they've bought into.
Retaining your best talent
A strong employer brand isn't just for attracting new talent; it also provides a compelling reason for your current employees to stay with your organisation. With extensive knowledge and developed skill sets, existing employees are an invaluable asset to any organisation and it's therefore worth investing time in building stronger relationships with this key set of stakeholders.
Your employer brand should be reinforced regularly; employees need to be reminded of the qualities that first attracted them to the organisation. More importantly though you need to deliver on the brand promises you have made to those employees, whether through reward and recognition, training and development or a clearly defined career path. Brand reputation is built on perceptions that are matched by the actual experience of engaging with the brand.
Leaving on a good note
There will always be a level of churn within your organisation but just because you're saying goodbye to a current employee doesn't mean your relationship is over. With a strong connection to your brand, leavers can remain some of your best brand ambassadors - if their exit is dealt with well. Employees often go on to be other stakeholders for your organisation, whether as a customer, competitor or an industry peer. They are often key influencers and will already have a great deal of insight into your employer brand. With this in mind it is important to ensure leavers feel supported until the end.
Exit interviews are often a good way to gain further insight into your employer brand and perceptions within the organisation, whilst demonstrating to leavers that their views are valued. Many of the largest employers have recognised the importance of past employees to the development of their employer brand and have established alumni schemes to strengthen these bonds and to retain communication with this growing network.
Monitoring your employer brand
An employer brand will continue to grow and develop over time and requires ongoing attention. The best employer brands recognise the changing needs of their workforce and shifts in perceptions and adapt accordingly. Tools such as employee satisfaction surveys, employee workshops and exit interviews can all provide invaluable insight.
Organisations that fail to recognise the importance of their employer brand and monitor it accordingly are likely to find themselves at a disadvantage over the long-term. Whilst increased spend on recruitment campaigns may aid short-term attraction of new talent, employers may well find themselves losing out on the best talent to firms with stronger employer brands. Even if you manage to attract a high level of talent the reality of how your employer brand is reflected across the organisation will ultimately determine the ability of the organisation to retain this talent.